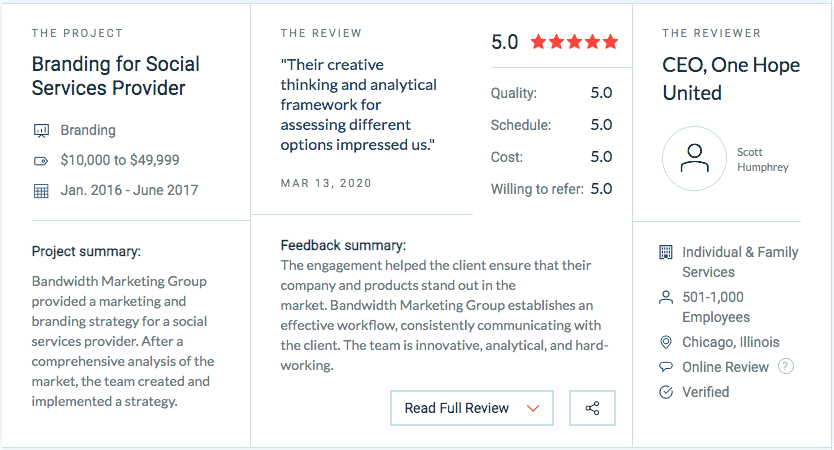 Since 2005, Bandwidth Marketing Group has provided customized marketing solutions for companies around the country. Our creative consultancy listens to client partners, then implements custom, cutting-edge creative. Bandwidth Marketing has worked with Allstate, GrubHub, GoreTex, and other recognizable brands in addition to myriad start-ups. Our Chicago-based team is proud to announce another new client review on Clutch, a leading B2B ratings and reviews agency.

Based in Washington DC, Clutch uses verified client feedback to rank and evaluate companies. Their team collects interviews and uses them to build an industry-leading repository of service providers. In addition, you can utilize The Manifest, a Clutch-powered B2B research guide. With their directories and industry research, you can find the best match for your next project.

We'd like to thank all the clients who've taken the time to leave us feedback on Clutch. We're proud to hold a 4.9/5.0 rating on Clutch over eight reviews, making us one of the top firms in the Chicagoland area and the United States.

In a recent project reviewed on Clutch, we provided branding for a social services provider. Our team established marketing and branding strategy, and then implemented, along with naming and new identity creation.
"They helped us develop a new brand identity 'sproutED' along with differentiated marketing strategies, measurables and associated analytics… Excellent workflow and communication between the companies; their creative thinking and analytical framework for assessing different options impressed us." — CEO, One Hope United

In other projects featured on Clutch, we've provided:
Branding for a child development nonprofit
Creative services for Guaranteed Rate
Website development for an investment management firm
Multiple marketing campaigns for GrubHub
Throughout these projects, our team has repeatedly been praised for hard work, technical skill, and great communication. This feedback keeps us going: we look forward to earning more feedback on Clutch in the years to come.

If you are looking to start a project, feel free to contact us. We'd be happy to start building up your business thru marketing, so let's chat.